The Digital Manufacturing -AIMM project, finalist in the Factories of the Future Awards
2022/05/11 12:37:00 GMT+2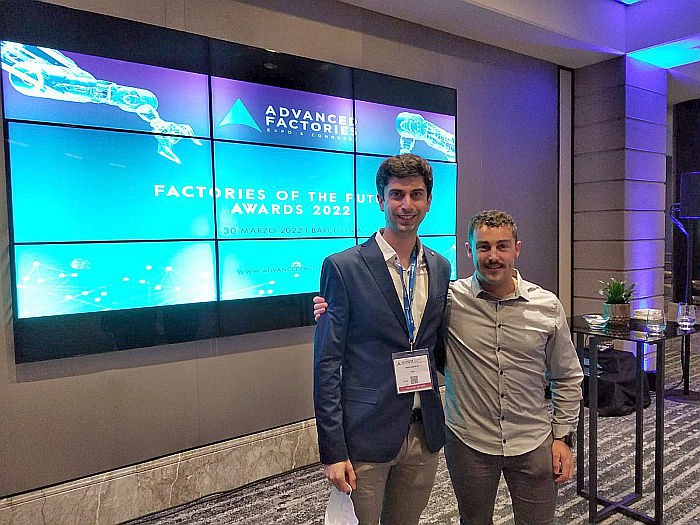 Recognition for our "High-performance flexible manufacturing cell" project in the "Best Robotics Project" category.
The "High performance flexible manufacturing cell" project presented by our IMH Campus colleagues Iñigo Sesar Gil and Beñat Gallastegi, has been a finalist in the Factories of the Future Awards 2022 in Barcelona, in the category of Best Robotics Project.
Congratulations to the whole Lantegi Digitala team at IMH Campus!
In this project, we have developed in collaboration with SMARTPM a new #AIMM (Autonomous Industrial Mobile Manipulator) robot, integrating it into a flexible manufacturing cell, consisting of an automated warehouse and several machining machines. Its main innovation is the reduction of the footprint, the increase of the robot's speed and precision, and the improvement in the communication between the robot and the machines, controlling the whole process with a modular software.
It should be noted that some companies decide to use AIMM robots because of the need to produce shorter series and very different parts with several complex operations. This provides greater flexibility and the ability to adapt to changing orders.
However, many AIMMs have a large footprint, tend to move at slow speeds, are limited in their ability to perform precision tasks, and the programming language depends on the manufacturer.
With our project and the advances achieved, companies will be able to increase the efficiency and productivity of manufacturing processes, while increasing flexibility and quality of production. In addition, they will be able to make better use of space and have tools to optimise processes.
Thanks to the ADVANCED FACTORIES team for their invitation to the congress!