ManuLearn TEACHING FACTORY "Autonomous production cell"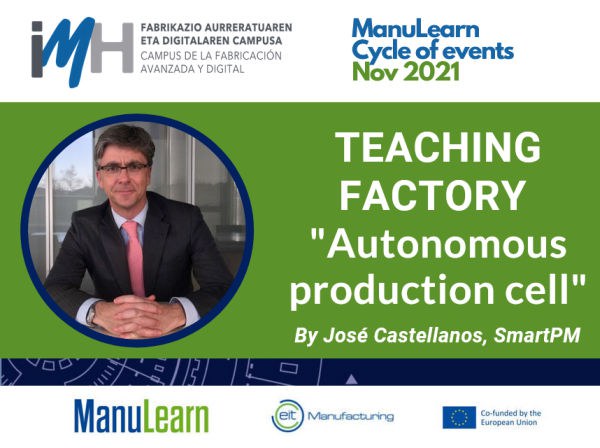 Presentation
"A production cell is the group of machines of a factory that produce a piece. In the concept of Industry 4.0, it is important that all these machines work together to increase the productivity of the cell by reducing the waiting times of the machines. In order to reach this goal, the machines have to communicate between them to plan the production process. However, each of the machines speaks a different language depending on the manufacturer of the machine. In this event we will attack this problem and try to obtain a solution."
Objective of the event
This activity, organised by IMH in the field of ManuLearn "learning through Manufacturing Challenges" project, aims to increase the innovation potential of the participating EIT RIS countries by enhancing the educational framework and boosting digitalization under the concept of Industry 4.0.
"Autonomous production cell" programme:
24 November, 09:30-10:30  SmartPM challenge presentation. ONLINE

30 November, 17:30-19:00  Discussion, students knowing more. ONLINE
01 December, 17:30-19:00  Presentation of students' solutions. ONLINE
Speaker
José Castellanos
Managing Director
SmartPM.
José Castellanos has a degree in Business Management and Administration from the University of Deusto and an MBA (Universidad Comercial de Deusto). He has developed his professional career as a manager in various sectors; energy, finance and industry, driving projects from conception to market implementation.
He is currently the General Manager of SMARTPM, an engineering company that was created with the aim of accompanying companies in their automation projects, relying on both process knowledge and the automation platform (MIC) created by SMARTPM..
Language of event
English
 See more ManuLearn cycle events...
This project has received funding from the European Institute of Innovation & Technology (EIT) Manufacturing.
When

Dec 01, 2021

from 05:30 PM to 07:00 PM
Where

ONLINE

Contact Name Iker Gallardo
Add event to calendar

iCal