Young people from the Basque City Hub at YML Annual Event in Italy
2021/10/26 20:08:00 GMT+2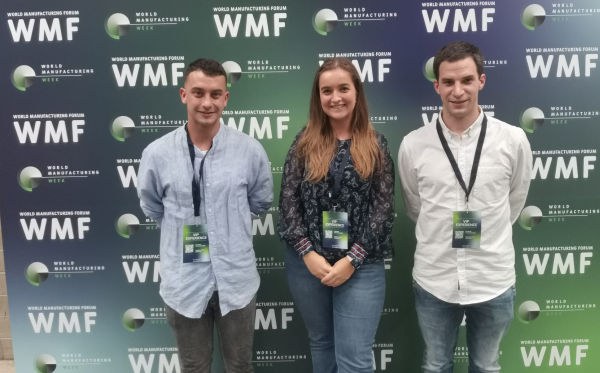 Elena Fernández, an IMH Engineering student, was awarded by the "Digitally-enabled Circular Manufacturing" contest.
Presentations and videos of the event
🥳You can also enjoy w
ork
ing and studying, can you? ...
✈️IMH colleagues Iker Gall
ard
o, Elena Fernandez and Ibon Alv
are
z,have been in Cernobbio - Lago di Como - Italy for the annual WMF-World Manufacturing Foundation meetings in Europe on October 19-20-21.
🤝Several activities have been
org
anized, including the main "YML Main Event" meeting, which brought t
oge
ther representatives of seven European Hubs, including the IMH (B
asq
ue City Hub).
💡Young people from the B
asq
ue Country, Germany, Ireland, Sweden, Italy, P
ort
ugal and the Czech Republic have met each other face to face and have a
lre
ady come up with several ideas to continue organising new projects and activities!
🏅To put a "brooch" on the trip, Elena Fernandez, a Dual Engineering Innovation Degree student, p
art
icipated in a round table of young inclusive leaders and received the YML 2021 contest aw
ard
in rec
ogn
ition of her w
ork
"D
igi
tal Technol
ogy
for Waste Recycling in the Steel Sector". Congratulations Elena!
🛹 To end the "YML Main Event", they have projected the video "Skating in Manufacturing" created by the B
asq
ue City Hub, developed in collab
ora
tion with the IMH and the Machine Tool Museum.
Young people from Basque City Hub, within the framework of the YML - Young Manufacturing Leaders project, will continue to organise activities around advanced manufacturing, with the aim of establishing relationships of interest at European level with other hubs, which will allow them to grow professionally.

Do you also want to participate? sign up!