Getting to know advanced manufacturing processes and dual training in Germany and Switzerland.
2022/06/01 07:27:00 GMT+1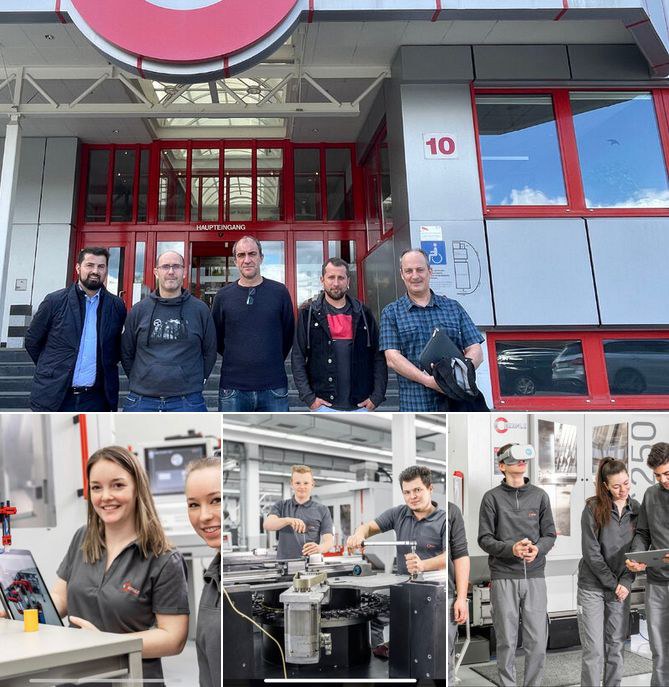 Four teachers from the areas of manufacturing and mechatronics from IMH Campus - Vocational Training have carried out their Erasmus+ mobility in Germany and Switzerland.
For Imanol, Jon, Igor and Ibai, teachers from IMH Campus - Vocational Training, the trip had three main objectives:
To get to know first-hand the production processes of the producers of cutting-edge machining centres and machine accessories.
To analyse the organisational process of these companies' own vocational training centres for dual learning. Both German and Swiss models.
To analyse the participation of the vocational training centres in the dual model.
Companies and centres visited:
Producers of machining centres: Heller and Hermle.
Manufacturers of machine accessories: Eppinger (lathe tool houses) and Lang (precision vices and quick-change systems).
Tool manufacturer: Urma (high-performance and precision scarifiers, etc.)
Vocational training centre: Max Eyth Schule
In the opinion of our teachers "the information received was very valuable, both from a technical and pedagogical point of view. We would like to emphasize that the welcome we received was excellent and that we had all the doors open to discuss everything we wanted to see. Thanks to all of you".