Accelerate your business through robotics with the DIH² Factor programme
2023/05/25 17:00:00 GMT+2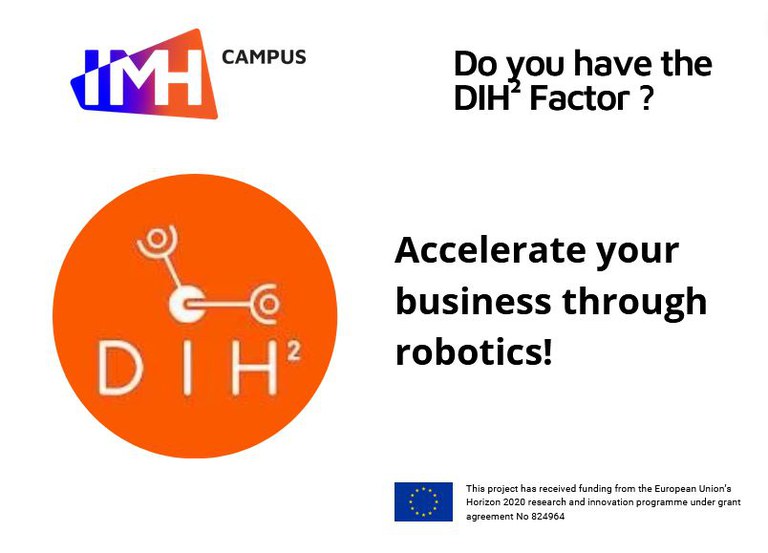 We are looking for companies that are leaders in robotics and agile manufacturing. We will work with them to improve their investment readiness and the best candidates will participate in a live pitch event in June 2023 to venture capitalists.
What is DIH² Factor? It is a funding programme for SMEs promoted by the DIH² and BLUMORPHO networks.

Who is it aimed at? Companies in the manufacturing and/or logistics sector that offer robotics, automation or artificial intelligence products or services, and that wish to increase their investment in the development of these products or services.

What steps do I have to follow to access the programme?

🤖 Companies can send a proposal by filling in the form on the DIH² network website with a description of the company's products or services and the developments they wish to carry out.

Subsequently, members of the DIH² network will make improvement proposals to the companies to improve their chances of attracting investment and will select the best proposals.

🤖 Finally, the selected companies will be able to present their products and services to international investors who want to invest in companies related to robotics or artificial intelligence.

🤖 Each investor will decide in which and how much to invest among the selected companies.

In addition, all proposals received will be published in an online catalogue promoted by the DIH² network, and some of the selected companies will be able to make presentations in DIH² network webinars, reaching more people.

The DIH² Factor programme is aimed at start-up and scale-up companies (up to A) specialised in one or more of the following areas: hardware for robots, artificial intelligence and data analysis, human-robot interaction, automation to increase sustainability, intralogistics in workshops or warehouse management, and decentralised production.

If you think your Start Up or Scale Up is ready to invest: