Skating in manufacturing, the transformation of skateboard manufacturing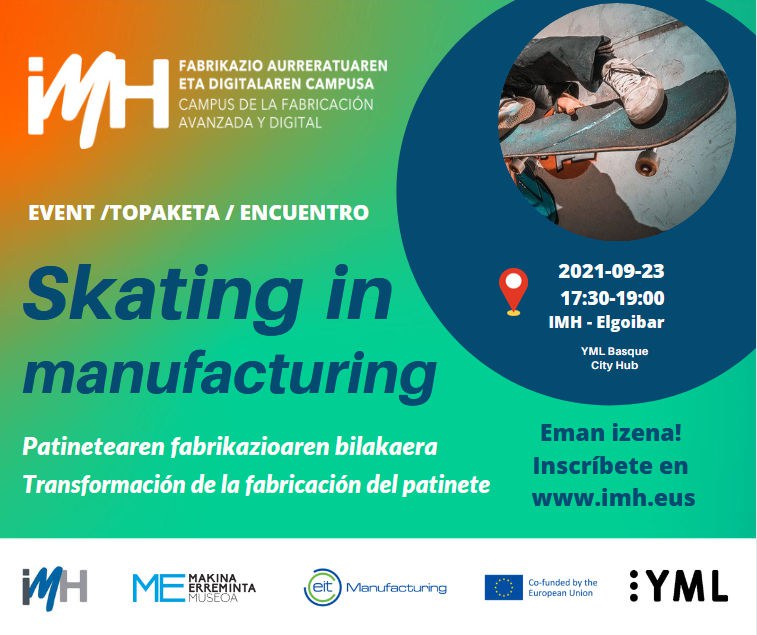 Presentation
Young Manufacturing Leaders (YML) is an open initiative for students, young workers and professionals between 18 and 30 years old who want to develop their professional career in the advanced manufacturing sector.

Those who participate in this initiative will be able to connect through the YML network with strategic agents in manufacturing, focus their skills on the needs of the sector and participate in events related to the industry, such as the one presented here, being the driving force and protagonists of change, and taking sustainable manufacturing as a basis.

The "core" of the YML, the dynamisers, are the newly created City Hubs: The Basque City Hub invites you to participate in this network!
Aim of Skating in Manufacturing event
What young person doesn't know a skateboard? We use them for sport, for fun, as a means of transport? But how can a skateboard be manufactured?

In the "Skating in manufacturing" event we will discover three different ways of making a skateboard and the technologies that can be used to do so, ... and the result will be put to the test in the Skate-park next to the Museum!

This activity will help us to understand how the production process has been transformed up to the present day.
Programme
In an attractive way the young YMLs will show us:
A brief presentation of the history of the skateboard and how the need arose.
The first scooters made of wood and with metal details. The production of the scooter by machining up to the present day.
Additive manufacturing of the scooter today and possible developments in the near future.
The event will end with a demonstration in the Skate Park in front of the Machine Tool Museum (if it rains, we will do it in the IMH porch)
Agenda
23rst September, 2021
17:30-19:00
IMH, (Azkue auzoa 1 - 20870 Elgoibar)
(In-person activity, registration is compulsory)
Who can participate?
Young people between 16-30 years old
YML members (as capacity is limited, those who belong to YML will have priority)
I want to register for the event!
If you want, you can apply to be part of YML:
When

Sep 23, 2021

from 05:30 PM to 07:00 PM
Where

IMH - MAKINA ERREMINTAREN MUSEOA

Contact Name Ibon Alvarez
Contact Phone

+34943744132

Add event to calendar

iCal