ManuLearn LEARNING FACTORY "Standard Communication Protocols: OPC-UA and UMATI"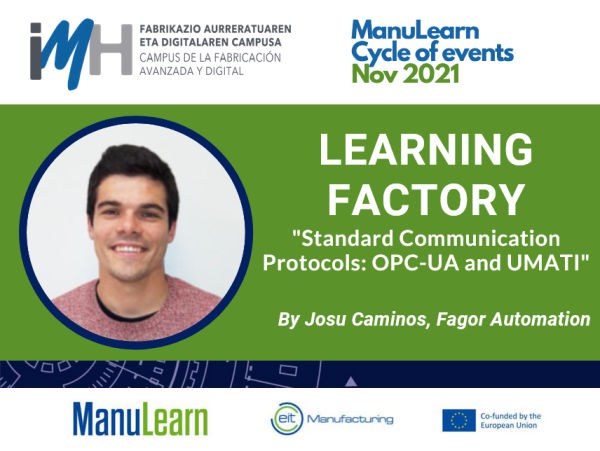 Presentation
With the arrival of the IoT paradigm in the industrial sector, connectivity and the extraction of valuable information from each installed device is a necessity to optimise the performance of industrial processes. Actors such as the OPC Foundation have been working for years to standardise communications between the heterogeneous equipment in an industrial plant. With the OPC-UA protocol, they aim to ensure that all devices speak the same language and that devices of the same type speak the same language, thanks to the modelling of exported information in initiatives such as UMATI, for example. However, there are other lighter protocols such as MQTT that can satisfy other use cases and that have also proven their usefulness under different scenarios. In this context, Fagor has incorporated these services in its Numerical Controls over the last few years, so that these are prepared for the demanding requirements of Industry 4.0.
Objective of the event
This activity, organised by IMH in the field of ManuLearn "learning through Manufacturing Challenges" project, aims to increase the innovation potential of the participating EIT RIS countries by enhancing the educational framework and boosting digitalization under the concept of Industry 4.0.
"Standard Communication Protocols: OPC-UA and UMATI" programme:
30 November, 15:30-17:30  Theory exposition.

01 December, 15:30-17:30  Practical workshop
Speaker
Josu Caminos
CNC Software Technician
Fagor Automation, S. Coop.
SW development technician in the R&D&I department of Fagor Automation S. Coop. Implementations for applications related to Industry 4.0 and carried out on the following technologies: C/C++, Javascript, NodeJs, HTML5, TCP/IP communication networks, among others
Noteworthy projects: "OPC-UA Server" in which a data server has been developed and industrialised based on the OPC-UA protocol, widely used in the industrial sector for transferring data from machines to data acquisition and visualisation systems (ERP, MES). Server compatible with the UMATI standard which defines a common dictionary for the machine tool sector. Presented at the EMO-2019 Hannover trade fair.
Language of event
Spanish
 See more ManuLearn cycle events...
This project has received funding from the European Institute of Innovation & Technology (EIT) Manufacturing.
When

Nov 30, 2021

from 03:30 PM to 04:30 PM
Where

IMH (PRESENCIAL)

Contact Name Iker Gallardo
Contact Phone

+34943744132

Add event to calendar

iCal